My friend Tyson died this past weekend, at just 48. And, as I process the news of his death, I realize just how much Tyson was a featured character in my life, even though we haven't spent time together in quite some time.
And, while I am sad for the friends and family Tyson was currently close with, I am at the same time in awe that this is the time he chose to transition to the other side. Tyson's passing coincides with the end of an era for me, and having him on the other side gives me a lot of comfort. I imagine Tyson's soul experiencing a lot more ease and grace than he did in his physical body on this plane of existence. Life wasn't easy for Tyson in this go round.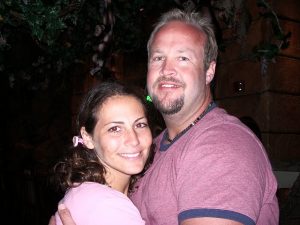 Tyson came into my life well before Ali Shanti was even a glimmer in my awareness. When we met, I was still very deeply rooted in the reality of Alexis Martin Neely, and in the process of getting divorced. I still owned my law practice in Redondo Beach, and my sexuality was completely "off" – in fact, just before meeting Tyson I had decided I was never going to have sex again, even though I was only 31 years old.
Fortunately, shortly after making that decision (a story I'll share another time, so stay tuned if you are interested), I got a big wake up call that reminded me how important my sexuality to Life itself, and if I'm "off" there, I'm likely "off" everywhere.
Once my sexuality came back online, and I got through my divorce, Tyson was the first man I dated. That was back in 2006 or so, and he was just what I needed at that time in my life. Fun and free! Tyson was the perfect partner in the exploration of what it meant for me to be an adult woman at the beginning of her sexual renaissance. 
We attended the Warrior Sage, Sex, Passion and Enlightenment training with Satyen and Suzanne Raja together, and Tyson was the last man standing after one of the exercises in which the men had to stand fully engaged with each other while the women attempted to distract them. It was such a turn-on that I experienced my first full body, extended orgasm without any physical contact. I know it sounds crazy, but it happened.
Tyson played beach volleyball at the end of my street, in Hermosa Beach. We had met through our common friend, JoAnne. He was big and strong enough to handle the anger my husband was spewing at him, each time he saw him. They would eventually become friends, but it would take a while.
Fairly quickly the romantic relationship between Tyson and I transitioned into friendship, and we stayed in contact and communication, thought didn't see each other that often, until we reconnected in early 2011.
It was the perfect storm of events to bring Tyson out to Colorado. I had bought a farm for my ex-husband to grow medical marijuana, and it had gotten clear that wasn't working out and now I needed to decide what to do with this 2-acre piece of land, 45 minutes north of Boulder.
After speaking with Tyson, and hearing that he was ready to escape the rat race in LA, and get out of the financial services industry racket, we made a plan for him to come out to my farm and build a community. By the Spring of 2011, Tyson was living at the farm and making headway on recruiting folks to work the land, and bringing all sorts of animals into our world. Gratefully, Tyson documented his progress and time at the farm in pictures here.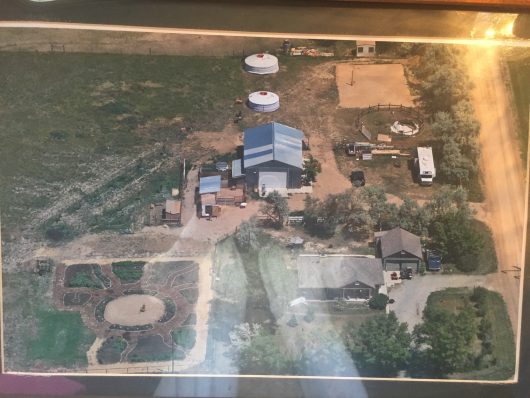 Over the summer of 2011, Tyson would go on to create magic on the farm, as you can see in the image above. A mandala garden, pigs, goats, chickens, a sweat lodge, yurts, and, of course, a beach volleyball court. And that was just what you could see from the outside.
Inside the barn, we converted a huge, dusty barn into a beautiful retreat with a kitchen, and an office, and a loft, and the most beautiful floors, painted floors. Ceremony space. Yoga space. Meeting space. Living space.
And, Tyson was partially the source of my name, Ali Shanti. I had been in an ayahuasca ceremony one night, and upon hearing the chanting "Shanti, Shanti, Shanti, Shanti" I heard a very clear message that said "that's your name." I knew it was true.
The next day, no longer in the medicine space, the Alexis part of me was back online and she said "no way are you going by Shanti. That's just too weird." As I considered what to do, because there was no question that my name was Shanti, I remembered that Tyson had been calling me Ali since he had come to the farm. No one had ever called me Ali before, and I really loved it. It was soft and feminine, and representative of a part of myself I was learning to embrace.
Ali Shanti it would be. That was a name I could say yes to, even the Alexis part that still thought it was pretty weird.
So much of it was so very beautiful. And, yet, beneath the surface lurked an ugly shadow that Tyson and I would need to face, and ultimately would cause the end of the beauty that we had created. Addiction.
Tyson had moved to the farm sober, and by the time he left, he had relapsed significantly. Over the years, my feelings about his relapse ran the gamut from anger, sadness and disappointment, to bitterness, blaming myself, and ultimately to compassion and forgiveness for us both.
If I had been more emotionally well myself, I could have held it together and made something of what we created. But, quite frankly, I was not at all well. My addiction was far less on the surface than Tyson's, but I was without question equally sick. I was just far better at hiding it.
Perhaps I can summarize it best as coming to see that I was addicted to a certain image and set of beliefs around success that kept me constantly busy, afraid to be alone, unable to feel my heart, and focused almost entirely around money as my metric for well-being. Today, I know it as money dysmorphia. Back then, it didn't have a name.
Ultimately, the farm would be the sacrifice I would need to make in service to the beginning of my healing.
The farm community had to collapse so I would be forced to move there and stop my life, something I never would have done, without being "forced" to do it. So, sure I could blame Tyson's relapse on the collapse of the farm, or I could wake up and see the truth, which is that my need for healing was at least partially responsible for Tyson's relapse and the collapse of the farm. And, his relapse into alcoholism was at least partially responsible for forcing me to face my own addiction, and let go over everything, and file bankruptcy, in service to my own healing.
We deeply served each other, no question about it.
Tyson left the farm and headed to Peru, then to a farm up in the Northeast, before ending back up in California, and ultimately in Mexico where he worked in a variety of ibogaine focused healing centers, and began a dog rescue, which was really always his passion.
He died of a heart attack, in his sleep, they say. And, it makes sense because he always did live so much in his heart.
This series of photos of Tyson posted by a friend of his made me laugh when I saw it because it's just so very Tyson. Thank you, my friend, for your love, your friendship, your healing, and all of the ways you "forced" me to do what I may never have done otherwise. RIP, or as a friend of mine says, Rest in Purpose.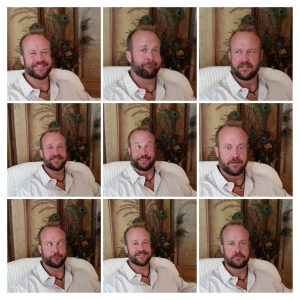 It's oddly ironic that Tyson died just this past weekend because our last communications were regarding the final payoff of a debt related to the farm, and on the Friday before he died, I had surrendered to paying back more than I had borrowed in service to closing out the final loops.
I hope that Tyson knows I forgave him and that I was resolved with the choices he and I both made. Whether or not he knew before he died (though I think he did), I trust he knows now.
And, of course, I am the one left with the question, so with Tyson's passing I am looking at what other loops there are to be closed, what other resolve there is to bring, and where else I can forgive more.
Maybe, in honor, of Tyson, you can do the same.